Shimano Sedona 500 reels rewiev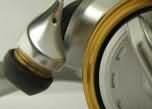 «Im newbie for Shimano`s owner. I think, that their reels are very efficient and durable. My new purchase is the Shimano Sedona 500 FB. I have satisfaction, when using this reel especially for perch and chub. I find some reviews before purchasing Sedona. There are a lot of the negative words were said for this reel. But I know about black PR. And I purchased Sedona.
What Ill have? Excellent casting, sensitive and pleasure with this reel. But I catch my trophy large fish with Sedona!
I like to tviching with very little voblers like Kosadaka or Pontoon21. Their weight is 2-4 gram and they are cranks or minnow. But I cast them for long distance such as 25-30 m.
My braided line 0.10 mm cannt crash reels line roller because they rolling on ballbearing and has TiNi coated surface.
Friction brake is very good. By first time I dislike it for single disk, but it works very well. I using some fluorocarbon line 0.16 mm and there are no any breaks!
There is one reels disadvantage – its spool has some roughness. Ill polish them next time.
I use Shimano Sedona 500 FD for ultralight spinning. Their weight is 175 gram + Banax Ultra spinnings weight 70 gram. I have very light fishing tackle.
I use this reel at half year and there are good emotions only.Five star rating for Sedona 500! See Sedonas rewiev on russian here.